Tibet Travel Destinations are well explained; Tibet Travel Agency TCTSs New Release Helps Tibet Tourists understand where to go and what to visit in Tibet
Tibet is a vast land that gives travelers opportunities for learning and adventure. To help travelers plan their tour, Tibet Ctrip Travel Service-TCTS (http://www.tibetctrip.com) announced a new release discussing five distinct travel regions in Tibet.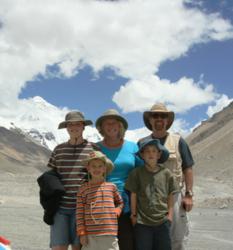 (PRWEB) June 07, 2013
Travel in Tibet opens the door for adventure and cultural discovery for travelers around the world. With so many travel destinations to choose from, travelers can customize a tour that meets their specific needs and interests. Tibet is, without a doubt, a large country; to help travelers better understand its geography Tibet Ctrip Travel Service-TCTS (http://www.tibetctrip.com) discusses five distinct Tibet travel destinations. To become familiar with Tibets varied natural and cultural landscapes, travelers will be able to plan a tour that focuses on the areas that interests them the most.
Lhasa and Yarlung Valley:

This is a hot spot for those planning a culture-focused tour of Tibet that still includes opportunities to enjoy unforgettable natural scenery. In Lhasa, travelers can learn about Tibetan culture as their native Tibetan guide accompanies them to places like Potala Palace, Jokhang Temple, and Sera Monastery. Yarlung Valley, cradle of Tibetan civilization, is home to Tibets first capital, Tsetang. Here travelers can take a step back in time as they tour ancient sites such as Yungbulakang Palace, the first palace in Tibet.
Central Tibet:

This is the region that includes Gyantse, Shigatse, Lake Yamdrok, and the surrounding area. This is another Tibet travel option for travelers interested in learning about Tibetan culture and Tibetan Buddhism! The small town of Gyantse is home to Kumbum Pagoda, filled with fantastic works of art, and Pelkhor monastery. In Shigatse, many travelers choose to visit Tashilhunpo Monastery, seat of the Panchen Lama. Tashilhunpo Monastery, featuring a towering statue of the Maitreya Buddha, is a pilgrimage site for people from all over Tibet! With so much to learn from this region, TCTSs native Tibetan guides are more than happy to answer questions.
Nyingchi-East Tibet:

This off the tourist radar region is home to fantastic landscapes. While the snow capped mountain and alpine lakes are beautiful in themselves, the regions biggest draw is the Zangbo Canyon. Zangbo Canyon is the worlds deepest, rivaling the United States Grand Canyon in beauty and magnitude.
Kailash-Lake Manasarovar Region:

In this region, travelers can take in stunning mountain landscapes as they join Hindus, Buddhist, and Bon in making the ritualistic trek around the base of Mt. Kailash. Travelers make this trek to cleanse their souls of anger, fear, and misperceptions of reality; Tibet tours in this region give travelers a special opportunity to grow personally as they learn about a variety of cultures.
Everest Region:

This remote region near the border with Nepal was once reserved for the most intrepid travelers! A drastically improved tourist infrastructure has made standing at the base of this world-famous mountain accessible to almost any traveler who can handle the altitude. Trekkers can even make the four-day trek from Old Tingri all the way to Everest Base Camp.
Tibet is a vast country and varied landscapes and opportunities for adventure. When planning a Tibet tour, travelers are best off taking time to learn about all of what Tibet has to offer then focusing on the regions that interest them the most. TCTS is more than happy to offer suggestions and answer questions about its tours. Now that the 2013 Tibet travel season is in full swing, travelers are encouraged to start planning their trip now.
Tibet tour company TCTS Contact Address:
Post Address: Tibet Niwei International Travel Service, Co., Ltd (Niwei Building Room 302, No.13 North Linkuo Road, Lhasa, Tibet)
Tel/Fax (Lhasa area code):86-891-6342607, Mobile: 86-13628999610 (Tony), Post Code: 850000
Email: sales (at) tibetCtrip (dot) com, TibetCtrip (at) gmail (dot) com
Devin Moore, author of this release, is a travel writer and independent economic analyst based in Springfield, Missouri USA. Devin enjoys travelling throughout Asia and his economic research is currently focused on airfare pricing. In partnership with local Tibetan travel agent TCTS (tibetctrip.com), Devin publishes Tibet travel related information in order to spread awareness of Tibet and its people.
Partner Link from XPAds connected with Chattanooga Real Estate :
Chattanooga Real Estate